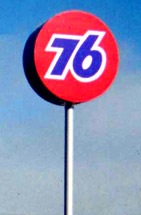 Thanks for visiting Steve's 76 website

Open 24 hours (even during power outages).




SERVICES WE OFFER:

  • GOOD TO GO - fully equipped convenience store with Beer Cave
  • TOP TIER 76® GASOLINES - always competitively priced
  • DIESEL FUEL - access on all 3 islands
  • PROPANE - easy parking for filling, or to purchase a new tank
  • RV SANITARY DISPOSAL - extended hours
  • AUTOMOTIVE - flat repairs, wiper blades, and lamp replacement

The following services are available between: 6 am - 10 pm, 7 days a week
  • Propane
  • Flat repairs
  • Wiper blades & lamp replacement
  






Here at Steve's 76 we are proud to provide Quality PROclean® Gasolines, one of the highest quality gasolines available. Quality PROclean Gasolines are recognized as TOP TIER. To meet this standard, a gasoline must contain higher levels of detergent additives that prevent deposits and help ensure peak engine performance. We're proud to say Quality PROclean Gasolines meet the new TOP TIER requirements.


Using Quality PROclean Gasolines will help maximize your car's performance by:

* Cleaning engine fuel injectors and intake valves
* Reducing vehicle emissions and pollution
* Improving power and acceleration
* Above all helping maximize your car's mileage


How does a detergent additive work?

A detergent additive works by cleaning your car's fuel system and intake valves. When your engine is running clean, your car can perform at its best.









About Us  Photo Album  Products & Services  Promotions & Specials  Fuel Prices  Find Us & Hours  Contact Us